---
Any sort of diet restriction can be hard. It can feel limiting. Overwhelming. How do you travel? Or eat out? Or snack? Will I ever be able to just buy something at the store and eat it on the go again? Or eat with my friends or family?
First of all, YES! Healing is possible! Always remember that your body was designed to heal itself. It wants to heal itself. It has not betrayed you.
That being said, there are some tricks that will make traveling much easier and some tips for if you ever find yourself in a situation where you've gone too long without eating and need something NOW.
The safest option is always to make food a head of time and bring your own food with you. I bring an insulated lunch bag or cooler with me every time I will not be home for a meal . Although this requires planning ahead, it allows me the flexibility of eating when my body cues me to eat. I am also able to control the ingredients. I know exactly what is in my food. I have gotten used to eating food cold so it doesn't bother me if there isn't a place to heat my food. However, if you'd like to heat your food at home, there are some great insulated food containers that will keep food hot for several hours. Another option for heating food is the Hot Logic Lunch Box. I have not personally tried this product, but it has great reviews. It is available on Amazon or from the product's website.
Sometimes you do need quick, convenient options. It is important to be choosy when you decide which products to purchase for a convenient way to allow you to continue pursuing health.(Remember that healing is the goal always over convenience!) Just because something is marketed as "healthy," is low-FODMAP, or technically "legal" according to your diet protocol does not mean it is beneficial for your health. In particular, be sure to check for gums, thickeners, added sweeteners, natural flavors, and preservatives.
Another thing to keep in mind are that many products are low-FODMAP if you pay attention to portion sizes. For example, sweet potatoes at 1/4 Cup are considered low-FODMAP, but more than that is considered moderate or high. So if you decide to purchase a bag of Jackson's Honest Sweet Potato Chips (and I suggest you do!), make sure you only have a few chips at once if you can…!
When traveling, look up restaurants and health/natural food stores before you visit. In every city I'm in (including my own!) I always looks up restaurants ahead of time to make sure there will be options that I can pick together to create my own meal if needed. I alert the server upon arrival (or even better to call ahead) what my restrictions are and ensure that they will be able to accommodate.
I also always make sure I know where all the Whole Foods stores are located so I have access to easy snacks and portable foods. I also like to scout out the local grocery stores to discover what less expensive options they offer.
Below I have listed items I keep an eye out for in each grocery store.
Before visiting a new city, I research allergen friendly restaurants. Yelp and Google are my best friends when preparing for travel (aside from personal recommendations, of course!). Using keywords like "paleo," "gluten-free," "dairy-free," "allergy," and "organic" can be very helpful. Alaena Haber, of Grazed & Enthused, has a wonderful post detailing the best methods for dining out with food allergies. See her post for more restaurant specific tips.
---
For a complete list of the FODMAP rating system, visit http://www.ibsdiets.org. For information regarding "What is A FODMAP?" see my post about this.
---
I am pretty picky when it comes to what I will/will not consume when it comes to store-bought products. My standards are high. The products must not contain any inferior oils, nitrates/nitrites, preservatives, gums, thickeners, added sweeteners; must be organic and/or non-GMO, and must also be well tolerated by my body on that particular day. I am human, though, and do make exceptions for certain things when I feel it's appropriate to do so.
For a long time I tried to tell my body what it would and would not like based on what was marketed or taught to me as a "good for you" product. However, I have learned that simply because a food is labeled a "superfood" does not mean it is super for me. If I don't tolerate something well, instead of continuing to force it on my body in the name of health, I listen to it! This can be a really hard lesson…or at least it has been for me. Sometimes I so want to just participate in what others are eating that I force myself to eat something "healthy" that I know doesn't feel good to me. Now though, I have learned–and am learning still–to listen. I am learning to care for my body.
Friend, learn from my mistakes. Listen to your body. It's talking to you. Listen kindly. It's always been there for you.
---
Websites with low FODMAP products and/or brands:
Fodmapped for You!, FODY, & others
Thrive Market Low-FODMAP products
---
Low-FODMAP/SIBO-Friendly products I do/would use:
Sprouted nuts/seeds – available at Fred Meyer, Amazon & online
Seasnax Seaweed – also available at Whole Foods
Canned Seafood – available at Trader Joe's, Whole Foods, Amazon & Wild Planet Foods Online
Organic Olives (without garlic) – available at Trader Joe's, Amazon & online
Vital Proteins Bone Broth Collagen Peptides & Collagen Peptides Stick Packs
Further Food Collagen Peptides Sticks
Use code ANNIKA10 for 10% off your 1st order!
Sunbutter – available at Whole Foods & online
Jackson's Honest Chips – available at Whole Foods & online
Freeze Dried Organic Fruit – available at Thrive Market, Whole Foods & online
Organic Sprouted Quinoa – available at Thrive Market, Whole Foods, Amazon & online
Organic Sprouted Quinoa or Rice Pasta – available at Whole Foods, Amazon & online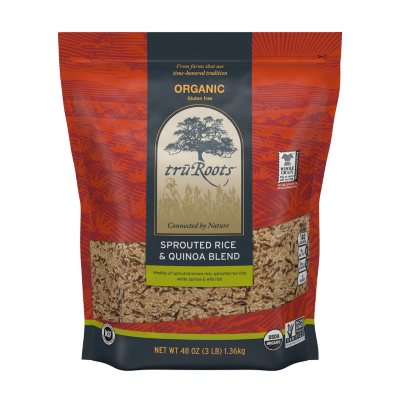 Organic Sprouted Rice Cereal – available at Whole Foods, Amazon, Thrive Market & online
Fruit (fresh or frozen) such as oranges, strawberries, blueberries
Evolution Green Devotion Juice – available Whole Foods & online
Rebbl Drinks – available at Whole Foods & online
Santa Barbara Chocolate – available online
Honey Mamas – available at Whole Foods & online
Made with cacao, coconut oil, honey, coconut, and pink Himalayan salt, these are squares of heaven!
There are many other products out there, but these have been my go-to's.
What products do you like for quick, grab and go options?
Annika